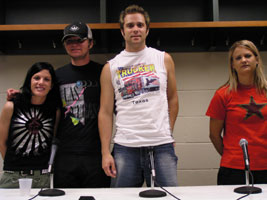 Skillet: Exclusive Interview
(By: cMusicWeb.com)
cMW: Our motto is "A different approach to music." How does Skillet fit into this?
Korey Cooper: I think our approach to music is that it is a vehicle to say and do what we feel called to do. So it is not an end in itself which I think it is for a lot of artists. Like I do like music a lot, but I don't. Like if God asked me to stop music, it would be hard but it would not be like a huge issue for me. So I think for us, we have a message we feel from God to share, and that is what our music is for, it is just a vehicle for that.

cMW: What is your heart for youth in the world today?
John Cooper: In our nation, I would like to see a genuine Gospel come to the youth of our nation. Not religiousness, or not a tradition of going to church since they were kids, or whatever it is that they have been doing since they were young. But the genuine life-changing Gospel that will cost your whole life to come to Christ. It will cost everything you have ever had. There is nothing else to live for anymore because your life is ruined for the Gospel. To see that kind of genuineness come, because I think with that will come a passion for Christ among people because they would understand what life is really about. And I think that we are so religious and traditional in our nation. I have a feeling we might be the last country on the earth to see revival happen because we have grown up with it and it is not a big deal that God saved us any more. I mean it is, but we just don't know it. I think the genuineness of the Gospel has kind of been lost.
Church is big business. I am not being cynical about it, but it is true, it is big business. You go to college and you go visit a church that you have never been before and they vote on you if you are good enough. It is not what the Bible teaches, but we do it. I think we have lost a lot of the genuineness.

cMW: Do you have any accountability on the road?
John: Mainly just with each other. I mean we do with our church that we love. We moved from Tennessee to Wisconsin to be part of our church. Actually Korey's dad is the Pastor. So yes we do have a lot of relationship there, and there is accountability there, but that is not the day to day accountability. That is done among ourselves. We live together every minute every day. We sleep on the bus together, and it is not like we don't ever see each other for more than 30 minutes or something. It is something that is distinctive of Skillet. We have such a great relationship with our church. We do a lot with our church in terms of when we are home. Korey and I lead a youth group at church and we are involved with worship at our church, and a Home Group, stuff like that. We are pretty blessed to have a church family.

cMW: Can you tell us more about your upcoming album? How many cuts, is there a major theme, do you have a title?
John: The album is going to be called Collide which we pretty much just decided for sure. Unless I think differently in a few weeks. It is going to come out in November. I think there is going to be 10 tracks. We started with 12, but to tell you the truth, I just did not like the last two. They just were not coming together, they did not really fit the theme. It really felt to me like we had 10 really good songs and 2 really not so good songs.
The theme behind Collide, just the idea that the Christian life collides with the fact that we are living in the world and we are humans. Kind of the expression about two worlds colliding. There are a few songs about issues that people are going through like not feeling good, feeling unwanted or useless. There is one song on the album which is about divorce which is the first social issue that we have ever tackled on a record before. And there is a love song on the record which is our first time to ever have a love song on one of our albums. I am really excited about this song it is called "Little More." And it is not just about loving a person, it is about the fact that love conquers all. When things seem really hard, the idea that love can take a little more. I think that goes with the message of Collide, that we are Christians and we do need to learn how to balance the fact that we are humans and we do make mistakes with the fact that we have been redeemed and God has a new life for us that we need to learn how to live.

cMW: Will we hear any changes musically on the new album?
John: Yes. We worked with a producer named Paul Ebersole, and he has produced some pretty big mainstream albums like Three Doors Down and Sister Hazel. I produced Alien Youth myself, so there was not the real sharpening that happened between me and somebody else on new music. So this has been a real challenge for us. He has listened to our songs saying, "No that's not good." We went into the record deciding this was going to be a big change, it is going to be mostly a hard rock album, not a lot of keyboards, not industrial. (Korey is playing more guitar now) And where it is really taking us to is more of a rock album. But the album has a lot of piano, a lot of strings, and a lot of acoustic guitar. Stuff that we had not really planned on, but it just kind of went there and we liked it so we said, "Let's do it."
We have been living with it for quite a while so I don't think of it as being really different. But when I play it for one of my friends, they are like, "Whoa! This is totally different." I think our fans will like it because it is aggressive. It is a passionate sounding album, so hopefully our fans will not be freaked out.

John: In terms of a song that came out of an experience that God was showing me? Not necessarily like that. The style of the lyrics and what the songs are about are really different than our last couple of records. Alien Youth and Invincible were both very much records toward the church, about revival, the church rising up, the kingdom of God and thirsting for God. And this album is not really like that. It is more about issues that young people are going through, Christian and non-Christian alike. It has been different for us. It has been a different writing process, I guess. This album has more personal issues that people can relate to.

cMW: Is there anything else that you would like to share with the cMusicWeb readers to encourage them to go out and buy the album?
John: This record sounds like putting our first record and Alien Youth together.
Ben Kasica: If you don't like Rock music, don't buy it.
John: This album rocks harder than any of our other records have rocked. It is more organic in terms of keyboard sounds. Guitars are pretty much straight up rock too. The biggest noticeable change for us is that we had somebody work with us on our songs and to really challenge us, to push us to do better songs, better guitar grooves, better sounds. Because for the last couple of records, we have been doing it ourselves. And now we had somebody to come in and to be more subjective. It challenged me as a songwriter to not settle for just being good, and to keep writing. I had a load of songs written that we did not use. I had probably 8 songs that we did not even start recording. I kept writing and things just kept getting better and better. I think it is going to be a bit noticeable on the album that the songs are a bit more mature because of somebody else's influence coming in and helping wrap the record up. I think it is going to stand out from the other records a little bit more
-Kim Flanders (from cMusicWeb.com)
October 2003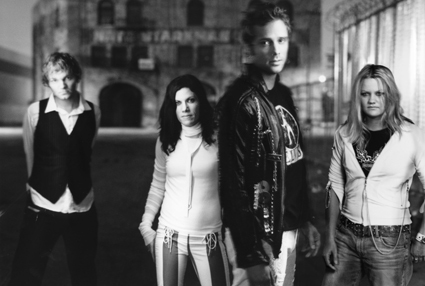 Skillet Interview In Person at Universal Studios' "Rock the Universe" Festival - 9/6/03
(By: Chad Olsen from hmmagazine.com)


(Yeah, this is a loooong, but good interview)

Chad Olson: So, John's feeling better. Did anybody else get sick with what he had from Alaska?
Ben Kasica: I think that I gave it to him actually.
CO: Oh, really?
BK: Being near each other.
CO: He was hocking up a storm on the phone.
BK: I think were doing okay, though.
Lori Peters: Over and done.
John Cooper: We're over it.
CO: I forgot to ask John where and when you guys recorded the new album.
JC: We started in January, right?
BK: Yeah. We did three songs...
JC: We did three songs in January, one of which didn't make the record. And then we spent five days, and then we didn't do it again until, I wanna say April.
CO: Oh, wow.
JC: The last day of April. Or was it March?
BK and Korey Cooper: I think it was April.
JC: Something like that, so I'd say by the time we got in we spent another two months on it. All we do is weekdays.
CO: Okay, and where did you record it at?
JC: At Ardent in Memphis, Ardent Studios.
CO: Oh, okay. They have their own studios. I wondered if you could just tell me, and I'm sure youve answered this many times, how did you come up with the band name?
JC: Well, when we got together, it was me and two other guys, and we were all from different groups, and it was like kind of starting a side-project, taking different ingredients from different bands and putting them in a Skillet.
CO: Gotcha. Also, I'm not sure why you left Forefront Records. I never was real clear on what happened with that. If you could tell me about that, and how you ended up on Ardent.
JC: Sure. Well, actually we were signed to Ardent Records, and Ardent had I don't know what you'd call it....a deal with Forefront where Forefront was distributing and marketing their albums. And the deal Ardent had with Forefront was only for three records. So, we didn't really go anywhere, but Ardent began to market our albums starting with, really our worship record, if you count that as a release. So, it wasn't like we left.
CO: Okay.
JC: We have really good relationships with Forefront to this day.
CO: What was the title of the worship record?
JC: It was called Ardent Worship.
CO: I know that John and Korey are involved in youth ministry, but do Ben and Lori, do you have other jobs outside of the band?
LP: Nope.
BK: No. We help out a little bit with the youth group.
KC: They went on a camping trip with us.
CO: Ben, I didn't realize how young you were until I was poking around the bands website yesterday.
JC: He's a teenager.
CO: Yeah, he's young. How did you end up in the band?
BK: Um, I was good friends with Korey's sister, actually. She was my youth leader and stuff, and I was on the worship team. And we played some worship outreaches and stuff, and it just kind of worked out.
CO: Lori, how did you come into the band? I know how you came, Korey. (Laughs)
LP: Well, I'd known Korey for a long time, for like 15 years or so.
CO: You're both from the same town, is that right? Kenosha?
LP: Same town, same church. We went to high school together, and played on the worship team at church. Then when she married John, I met John and the rest of Skillet. So, later on when they needed a drummer, I just decided to audition.
CO: Korey, tell me about playing guitar now. Has it been challenging, and do you enjoy it more or less than keyboards?
KC: Yes, it's been challenging because...Well, I guess overall guitars a lot easier than keyboards. But it's just a matter of the technique; once you have the technique down then you don't even have to know theory or anything to be able to play. So, that was work for me because it's so different than playing keyboards that I had to just retrain my hands to be gentle. It's hard for me to really be passionate on the guitar because you have to be so gentle. I can't really rock my face off, you know what I mean?
CO: Uh, huh.
KC: So, I guess the most challenging thing at the moment is trying to be expressive while still playing the right parts.
CO: Yeah.
KC: So, I enjoy keyboards a lot more than guitar, even though I enjoy being able to play the guitar. But, yeah, keyboards...I don't have to think about 'em, I can just go up there and rock and not have to look at what I'm doing. And guitar...it's a little bit of work.
CO: Okay. Have you played piano/keyboards for a long time?
KC: Yeah, since I was a little kid.
CO: Alright.
BK: That was a long time ago!
KC: That was a long time ago.
BK: It was one of the first keyboards, and...
CO: (Laughs)
KC: I've really only been focusing on guitar for the last year because I knew that I was going to play live. And I had a baby in that year, and I've been really busy. So, it's not like I can really focus on it like you can when your'e a teenager. I write songs on guitar, but because I didn't know anything...I didn't know any theory, I only knew a few open chords on acoustic. So, I can't say that I knew anything as far as playing guitar. It's totally different playing on an electric than an acoustic, as well. So, yeah, it's only been about a year.
CO: That's what John said. I see you all have your piercings in. They didn't make you take them out, huh? (Laughs)
JC: That waswell, worth mentioning.
CO: Where was that actually, if you don't mind me asking?
JC: It was actually in...(Writers Note: location withheld to protectwell not exactly to protect, but the band would prefer we keep the location to ourselves.)
CO: At a festival?
JC: No...(Writers Note: again, event withheld for a reason.) Maybe you shouldn't mention where and what it was so they won't know that I'm talking about them specifically.
CO: Alright. I presume they didn't make the ladies take theirs out, did they?
KC: No, no.
BK: (Laughs)
CO: (Laughs) Let's see, John and I talked about this already, but who would the rest of you list as influences and/or favorite bands?
KC: Christian or secular or...?
CO: Yeah, anything. Both.
JC: It's HM, so you don't have to be...
BK: Steven Curtis Chapman.
CO: It's not, well, you know, [some other magazines we won't mention].
BK: I would say definitely Petra.
JC: (Laughs)
CO: (Laughs)
JC: No, that's true for me actually.
KC: For me, I like U2, their old stuff especially.
JC: Phew! Yeah.
KC: Peter Gabriel, Sarah McLachlan. Those are probably mine.
BK: This is Ben. I like Tool and Dave Matthews Band. Sort of different ends...
CO: Yeah, those are some extremes.
JC: They're both prog rock, though. Wouldn't you say?
CO: I think I follow you there.
JC: I think Tool is prog rock.
CO: Oh, yeah.
JC: Super heavy prog rock.
BK: I would definitely agree with that.
CO: I caught a hold of a new cd today that reminds me a lot of Tool, except the songwriting is more interesting....Katatonia. Have you guys ever heard of them? They're a secular band.
JC: No, uh uh.
CO: It's amazing.
BK: Really?!
CO: It's really cool stuff, but anyway...Go ahead, Lori.
LP: Um, I like the band Live. He's my favorite drummer. I like old White Heart stuff. I love Michael Jackson's Thriller. (Laughs) That's one of my favorite albums. So...
KC: She's a heavy metal chic at heart, though.
LP: Yeah. Van Halen.
CO: Okay. Who's the heaviest band you guys listen to?
JC: (To Ben.) Tool probably.
BK: Yeah, probably Tool. Yeah. And Korn as well. Anything more heavy than that is like.....(Makes funny face.)
CO: Okay.
LP: When I was a teenager, I liked to listen to really heavy stuff, but probably Linkin Park for me right now is the heaviest stuff I listen to.
KC: Yeah, same with me.
CO: Okay. So nobody likes Cradle of Filth or...(Laughs)
JC: Nah. Nobody really likes hardcore, or I don't know what you'd call it.
KC: Anything that goes, Rah, rah, rah!
CO: Okay. So nobody would be like a ZAO fan?
KC: No. It's gotta have a pop element to it.
JC: Nah. I like Living Sacrifices lyrics, but I'm not into that kind of music.
CO: Okay, so nobody liked John's growling on the new album then either? (Laughs)
BK: It's done tastefully. It's not...
LP: Oh, wow! (Laughs)
JC: What's so funny?
KC: He said, "It's done tastefully."
JC: Yeah, it's every once in a while. Probably if I did it the whole album nobody would like it. I wouldn't like it for sure...
CO: (Laughs)
JC: We're going to play a couple new songs tonight.
CO: Just a couple?
JC: Yeah, we don't know all of them. Savior, Energy, and maybe A Little More. I hope the crowd is good.
CO: Have you guys played this festival?
JC: A couple of years ago. The week Alien Youth came out, we played here. It was one of our first shows doing all that new music. We were all talking today about how....
CO: Is it a fun show? I've never been to the "Rock the Universe" thing.
JC: It was great. It was Relient K, us, and dcTalk. The funny thing was back then we were playing after Relient K. (Laughs)
BK: (Laughs)
JC: That was right when...That was a great, fun show.
CO: What festivals did you guys do this summer?
JC: Pretty much all of them except for like...We don't do Purple Door.
CO: Did you play Cornerstone this year?
JC: Yeah.
CO: Oh, you did? Main stage?
JC: Yeah. Then we did the new Cornerstone out in...
KC: North Carolina.
CO: Yep.
JC: Kingdom Bound, Sonshine.
CO: Did you guys do Main Stage at Sonshine?
KC: No.
JC: Sonshine's afraid of the rock, man.
CO: (Laughs)
KC: Pillar was Main Stage.
JC: Yeah, usually they don't let heavy bands do Main Stage. This year, maybe it was because Pillar's selling so many records. I was really surprised. They usually have the heavier bands play the side stages.
CO: Okay. John and I also talked about this, but how do the rest of you think Collide is or isn't different than your past albums?
BK: Hmmmm.
LP: For me, it is different because it's not as electronic. It's more straight ahead rock. As a drummer, I guess, I get to play a lot more. Live, it feels like I get to play a lot more. The triggering and...
CO: Did you do a lot of triggering on...I didn't see you guys...I've seen you guys once and nobody was in the band then except for John. That was like '98 at Creation.
JC: Oh, wow!
CO: Did you do a lot of triggering, and did you have to run any sequencers? Did you do anything with the electronic stuff? What was your role in that?
LP: Yeah, on the album it's all Korey, but live I have a sampler...MIDI plug and Roland sampler. Some triggers. A lot of Invincible and Alien Youth were like that.
CO: And you've liked not having to do so much of that?
LP: Yeah. Yeah, it's fun. It's kind of like freeing. I dont know. So, on the new music I'm not triggering anything right now. I dont think I ever will.
CO: What about Korey and Ben...How do you guys think the new album is or isn't different?
BK: Um, I definitely think it's the heaviest album, by far. I think its the most like mainstream sounding. Like the past albums came out, and they were a lot different than what was going on in music, you know? It was totally unique, and Christian bands were stuck writing the same things. I'm totally kidding.
Everyone: (Laughs)
JC: Never been done before, incredibly unique.
CO: (Laughs)
BK: No, but like the first album came out when ska was big. And you know, now hard rock is just real big right now.
CO: Gotcha.
BK: I play acoustic guitar on the album. A lot.
JC: You don't see any records with a lot of acoustic guitars...
BK: Yeah, like five songs have acoustic on it. And then piano and strings and stuff.
JC: Another funny thing is, the biggest influence Ben had on the album, too, was....I think he put his strong things through, classical type things. He did a lot, and made up all the acoustic parts.
CO: Korey, what about you? How do you feel about the new album being different than?
KC: I think its just great. I know everybodys said its really, really different. But I think it just sounds so much better.
CO: Why is that?
KC: I dont know. I mean, I know it's heavier, and I know theres a little less electronics. But I guess for me, the things I do are just more different sounding, changing up what I do. And I guess a lot less stuff as far as....There's still a lot of things going on, but its just really loose. To me...Maybe I've gotta listen to our other records....Maybe, I think its just...
JC: Maybe if we sat down and listened to Alien Youth tonight, next to the new album.....Maybe we'd be like, "Oh! People always say were much, much heavier live than our records are."
CO: Yeah, you talked about that last week.
JC: Did I talk about that?
CO: Yep.
JC: I think that's part of what makes it.....it doesn't seem like we've changed a ton. We scream and all that stuff live on our older music.
KC: Everybody's been like, "Whoa, dude! The new stuff is..."
CO: Something that John mentioned, too, is just that the change has...You know, the change happened like what, did you say over a year ago or something like that? So it's hard for you guys to remember...It was hard for him to even really remember how different it was.
JC: We were talking about...
KC: Well, when we first talked about it was a couple of months after Alien Youth came out, I think.
JC: Yeah.
KC: When we first talked about it. Obviously that record came out, and it was...You always have to look at yourself, and this is a bigger change than between Alien Youth and Invincible. There was a change there; it was heavier and more live sounding. But it was time now for a more drastic change.
JC: Yeah, at about two or three months when you're record is coming out, it's time to start writing for your next album. So, when you record a record, say after about 11 months after your record's been out...
CO: Are the strings on the record real strings, or are they?
BK: Yeah, I played....No. (Laughs)
CO: (Laughs)
LP: All Korey.
JC: Those are all samples. Korey will do those tonight when we play.
CO: Okay. Yet again, John and I spoke about this, but what do the rest of you wish to accomplish with the new album? Oh, here, have a copy of the interview. (Laughs)
KC: Wow!
CO: Now the rest of you can read it and see all the bad things he said about you. No, but what do the rest of you hope to accomplish with the new album?
KC: I think it would be....I'm tired and older, and theres one thing that I feel like Gods called us to do that hasn't happened yet. That's to get into the mainstream. So for me thats the biggest goal for this record, is seeing those doors open. I feel like God told us that they were going to be, and they haven't been yet. I feel its time. It's not like were out here disregarding the Christian market, but it's just time to see those doors opened. So that's the goal for me with this record.
CO: What about Ben and Lori?
BK: Go ahead.
LP: Just reach different people, an older audience.
KC: She's tired and old. I'm a year behind her.
BK: I'm 10 years younger, so uh(Laughs) I think I'd just like to broaden our audience a bit. I want people that don't necessarily like techno music...not that our stuff was techno, but it was electronic and stuff. I hope people that didn't really like that style will hear this new album and go, Yeah, I like that. I want people to buy my record. (Laughs)
CO: (Laughs) Ben and Lori, you both seem so familiar for some reason. Where are you from, St. Louis?
BK: Yes.
CO: Is that where you grew up?
BK: Yes.
CO: And you grew up in Wisconsin? Kenosha?
LP: Yep.
CO: Can't put my finger on it. John had spoke about your last three albums being different than your new stuff and the older stuff. And I just want to clarify, would that be Invincible, Alien Youth, and Hey You, I Love Your Soul? Is that what you would lump into that?
JC: Yeah.
CO: How do you guys do this, and have the baby? I mean, I can't imagine...I have a two and a half year old. She's high maintenance. I can't imagine trying to do what you guys are doing.
JC: It's hard. It's not unbearable though, is it? It's hard, but it works.
KC: As far as babies go, she's an easy baby.
CO: Is she?
KC: Yeah, but she's a baby, so it's a lot of work still.
JC: She's pretty good. We have somebody that watches her.
CO: Yeah, you said you have a nanny on the road.
KC: This morning she woke up at 4 in the morning, and we had two flights, and now she's just chilling out. She should be hungry and tired.
CO: So you guys flew down here?
KC: Yeah, we had our bus down here. My sister got married last night.
CO: Oh, wow. Busy stuff.
JC: Yeah, she's pretty good. Like last night, she didn't go to be till 11, 11:30. So, she only got like four or five hours of sleep. She's doing pretty good. Another thing is we kind of just knew that God was speaking that to us. We knew...I mean, we felt like he said it was time to have a baby, and we were like, Well, what is that going to mean? We'd never talked about having a baby on the road; we kind of thought we wouldn't do that. And we believe it was the Lord and stuff. So, when that happens you just go, Well, I guess God's gonna make this work out. And it really has. It's hard, but it's...
CO: And she was planned.
KC: She was planned, yes.
CO: Our's was not. (Laughs)
Everybody: Oh!
CO: That's all I've got. Does anybody have any closing comments or anything else that anybody would like to touch on? Where do you guys go after this?
LP: Georgia.
KC: Yeah, Georgia.
CO: Do you guys drive, take the bus up there?
JC: Yeah, this is our bus. We go...
LP: We go to PA...
CO: When does Shout Fest start?
JC: Shout Fest actually starts the 11th I think. We're not on it till I think the following week.
CO: And it goes for how long?
JC: 11 weeks? It'll be pretty good, play some new music.
CO: Do they make you have the baby in a car seat in the bus, or are there no laws like that?
JC: No laws on the bus, which seems strange to me. There's no way you could do that all night long, though. I wonder why that is? I guess...
KC: We don't have to wear seatbelts.
CO: That's true.
KC: So, do you live down here?
CO: Yeah, I'm actually originally from Iowa, and I actually used to work at HM Magazinemy wife and I moved to Texas, to Austin where HM is for a year. And then moved back up to Minnesota, and now just in December of last year we moved down here.
JC: Wow.
CO: We've kind of been everywhere.
JC: Are you just freelancing then?
CO: Yeah, freelancing. Yep. So, you bet. Well, I don't have anything else. When did you guys pull into town?
JC: 1:30 or 2.
CO: Have you done anything in the park?
JC: No, soundcheck was dreadful, dreadful man.
KC: We literally just got done with soundcheck at 5:30 or so.
JC: Then we went over and got merch, and had about a five minute break before you showed up.
CO: Wow.
JC: Yeah, that was pretty...
CO: Islands of Adventure is really cool, by the way. If you ever had any time...Islands of Adventure, that is the park in Orlando to do if you can.
JC: I love Spider Man. I love rides, but I just love Spider Man. I don't think we'll have any time, though.
CO: The Spider Man thing is cool. When do you guys take off, tonight or tomorrow?
BK: Tonight, yeah.
CO: Cool. Well, try to get a little rest before the show.
JC: Yeah, you got it, man.
CO: I will take off.
JC: Well...
CO: This was really great. Appreciate it very much.
KC: Yeah, thanks.
JC: When is this due to come out in HM?
CO: It's going to be in the November/December issue which will come out near the end of October.
BK: What?!
CO: The November/December issue
JC: It comes out every other month.
CO: Yeah, it's bi-monthly.
BK: Oh!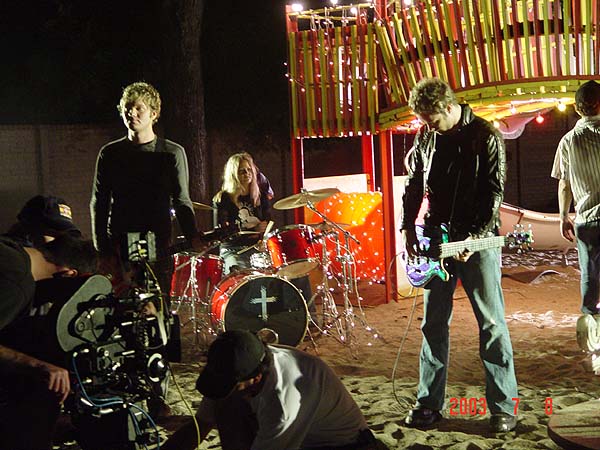 John Cooper explains the "Savior" music video

Interview by: Josh McConnell (from renownmagazine.com)

I'm sure all of you are familiar with Skillet; an established band in the Christian Music industry who has many music styles and a good number of albums.

Well, on January 12th, 2004, I was able to have a quick conversation with lead singer John Cooper over the phone from his home in Wisconsin. We discussed the new album, the constant change of Skillet's sound, the band going mainstream, their song and video Savior, touring, his one year old kid, and more.
- Josh McConnell



Josh McConnell: You guys have changed your sound yet again with the release of Collide, now with more of a hard rock feel. Why the decision to change the sound with, what seems to be, each album? Is it something done purposely every time?

John Cooper: Yeah, usually. It's not that we feel like we have to change our sound, but we do enjoy that -- kind of keeping people guessing about what we are going to do. Obviously we are growing, and we want our fans to grow with us. So there are so many different reasons.

Sometimes it's just from pure boredom, you know? *laughs* Like I'm just ready to do something else.

Josh: It keeps it interesting.

John: Yeah, thats right.

I would say only about four months after Alien Youth came out, we really knew that we wanted our next record to be more of just a straight hard rock album, to be even heavier [than before]. So we ended up playing for about a year and a half before we started recording the record, and then we started recording it and it just went good so we kept with that sound.

Josh: So what were some of your musical influences on this record then?

John: Oh man...I don't know actually, let me think.

*Both laugh*

John: I have so many influences.

Most of my major influences are like song writing influences from when I was younger. And I think what happens is that you hear music, and even if you don't necessarily love it and dont know that you are influenced by it, you are. You take away a little of something from lots of different bands, and that's what happened on this record. I mean, I would say that I'm definitely influenced by Linkin Park, P.O.D., stuff like that. I don't think you can really hear P.O.D. in my music, but it's just the small things.

So pretty much anything that I hear, I can usually find something from it that I really like. And without knowing it, I kind of integrate it into an idea or something like that.

Josh: Yeah, that's cool.

So, you guys made a great music video for your single Savior, what was the story behind it?

John: Well, first of all, the guy who had the idea wanted to do a video that wasn't a solely Christian-message video. He wanted to do something that was...well, I don't want to say social message, but you know what I mean. That kind of thing.

And I think that he had the take of Savior as not being Christ, but who could be Savior in a certain situation kind of thing. So the idea is that there's this family that the dad is being abusive and stuff, and there's these two kids and to them their mom is their kind of savior, their refuge, the one that they go to, and really just their security.

So what happens in the video is these kids have this vision-type scene in which they tunnel out from under their house. *laughs* And they end up in a playground, which is kind of like their bliss, so they are just having fun in this playground. And then in the video it cuts back to reality in which they are kind of waking up from this dream, and their mom is there with their bags packed and stuff. So its kind of showing that she's their savior.


Josh: That's great. I love videos like that as you dont seem them often, because now-a-days videos are really simplistic and are mostly just the bands standing there playing, you know what I mean?

John: Yeah, for sure.

Josh: So I love seeing these videos come out once and a while that have a story behind it, and have something to say. [Savior] was done quite well.

Anyway, so I heard something about you possibly getting a deal with [a mainstream label]. What's the scoop there?

John: Well, I'm not sure what is okay to say and what's not because some things aren't finished. But we are looking at a mainstream release this year, maybe April or May, and we are looking for the song Savior to be released also.

Josh: So it will be a full mainstream deal as well as your current on with Ardent, right?

John: Yeah, that's right. We've been looking for a co-deal basically, one where Ardent would supply us to the Christian retail stores, and then obviously the mainstream [label] to the mainstream stores.

Josh: Yeah, for sure.
So you write most of the lyrics for your songs, correct?

John: Yeah, that's right.

Josh: So what inspires you as you write them?

John: Well, I don't know to tell you the truth, it's really weird. Because people ask me all of the time about how I write my lyrics and stuff like that. I've always found that lyrics are the hardest thing about writing music, because music comes real natural to me and lyrics really don't.

And I honestly can't say what the process is. There are some times where I feel inspired, where I've been watching a movie, or reading, in a conversation, or something like that, and something really inspired me and I go "Wow, that's really cool, I think I'll write a song about that". But that doesnt help me very much. A lot of things do inspire me, but I don't think about writing a song about it, thats actually really hard to do.

A lot of the time it'll just be that I have an idea for a lyric, and I'll try to work off that one lyric. Usually, that's what it is, I'll have one line that I really like and then I'll try to write a whole song around this one line.

But I would say that movies really inspires me, I'm kind of a movie guy as I don't really like reading. If I do read, sometimes I feel really inspired by those books though, and they'll kind of give me ideas.

So I guess, within those songs, I definitely have things that have been going on in my life. Things that God has been showing me, or that God has been doing in my life. And I don't mind writing about some personal experiences, like my deep feelings and stuff. So I'll put those things in my songs for sure.

Josh: And you did things a bit differently with this album too, with a number of songs actually being written last minute in the studio right?

John: Well, it kind of turned into us writing the songs in the studio and then I would have to go home and write lyrics for it, yeah. You never know how they'll get finish, it's different for every one of them. Song writing, especially lyric writing, is such a strange process.


Josh:

You also tend to contribute to other projects, for example Ardent Record's Jonah33. Are there any new projects or bands that you are currently writing some stuff for? Or are you just taking it easy for now?

John:

Honestly, I'm really not. I usually dont have the time to do it. I've only had a few calls come in saying "Hey, come write for this". I would like to be writing more music for other bands and stuff, I really should be recording them and have them on file for when people ask. But right now I'm not really working with anybody. We've really only worked with two bands: Jonah33, and there was a band called Stir, which is a mainstream band on Capital Records I think.

Actually we did work with one other band, not for songwriting but we did some keyboard, programming, sampling and stuff. And they are called Dropline, or something like that.

Josh:

Ah, okay, that's cool.

So tell me about !Hero man, how did that come together? You had a pretty decent role in it didn't you?

John:

Yeah, it's pretty cool. I don't know how I got chosen for that...Eddie Degarmo is the one thats really putting it together, and I've known Eddie for quite sometime as he was the one that was really interested in Skillet at first. And I have known that he has been working on this project for years, but he never asked me to do anything. So I saw him at this show that we played at, and he said "Man, I wonder if youd be good for this part". So he just called me and said "Hey, its like the fourth or fifth biggest part, but its not really that big. So you don't have to tour, we just want you to sing on the project." I said Fine, that sounds cool to me, so that was a really cool experience. Of course, I got to work with Pete Stewart who produced the whole thing, that was really fun as I really enjoyed working with Pete a lot.

After it got finished, I think it went better than what everybody thought it was going to, including myself. So I think, for me, I didn't know how well I was going to fit the part, and afterwards I felt like that went really good. And that's when we began talking about if I should tour it, and those kind of things. Anyway, I never was able to tour it, since it was never really what we were planning to do. But afterwards I kind of wanted to.

*laughs*Josh:

Really? So you never did any of the shows?

John:

No, I never did any of the live shows.

Josh:

That kind of stinks. But it was still a pretty good experience though.

John:

Yeah, it was really great, I loved it. I got to see the performance of !Hero for the first time back in the end of November, and it was really strong man, I liked it a lot.

Josh:

So what's next for Skillet? What are your current plans?

John:

Well, in March, we are doing the See Spot Rock tour. It's going to be really good, I can't wait, just a lot of great bands. 12 Stones is on it, and Pillar, and Big Dismal, and Grits; those are the bands that I know of.

Josh:

Yeah, that's going to be cool

John:

It's going to be really strong man, I'm excited about it. That's going to be the coolest tour weve ever done for sure.

That goes March, April, and a little bit of May, and then it's festival season. So we are really just looking to promote this record as much as we can, just do as many shows as we can throughout the summer and see what happens.

Josh:

Speaking of shows, what is touring like for you guys? Does it get stressful after a while?

John:

Oh yeah....

Josh:

I mean, you have a one year old child now. I guess she comes on the road too?

John:

Yeah, she does, and that has made things really difficult. It's wonderful because I do have my family with me, which is really great. And I always thought touring was hard, and tiring, and exhausting, and now that we have a babywoah man, it's so much harder, just trying to get her in bed and stuff.

One of the things I'm dealing with now is on the bus, its too big to put her bunk in, because she likes to stand up in her bunk. And I'm just like "Well, how are we going to do that?" So now I'm trying to figure out how we are going to build a crib into our bus.

But man, I'll tell you what, it's so hard. We get done with a show and we come in at 1:00 or 1:30 in the morning, and she's been in bed for several hours so she gets up at 6:00. So if you do that for four or five days in a row, you are just tired as anything.

I mean, I am blessed because my family comes with me and thats really great, so it's not that I'm complaining. But it is the type of thing where its like, man, this isn't easy. It's great, but we have to figure out some things. And we have to hire a nanny too, and we have to pay her, so that's kind of hard because it's expensive for someone to come on for a whole month.

So it has it's challenges, but it was right, and we love it. Having a baby was fantastic.

Josh:

Yeah, it just kind of turns your world upside down.

John:

Thats for sure, bro.

Josh:

So what are some of your overall goals? What is Skillet trying to achieve as a band?

John:

Oh mansuch a big question. You know its really funny, I found that when we first started I always had the answer to that question for a couple of years. And the more that it has gone on, the more I've realized that its so much more complex than I thought it was.

*laughs*

So, to tell you the truth, I really don't know. The only real thing I want to accomplish through my music is to promote radical Christianity. And I guess I dont really honestly know....well, I guess I know what that means, but I don't know how thats worked out. I know that's what we want to do, we want to promote everything that radical Christianity stands for. Uncompromised Christian life, evangelism, and worshipwell, worship is a big part of what we do live as well, but we want to really promote that. We just want to see the church really living like the church is supposed to live. It's so much easier said than done, but I think thats the biggest enemy against Christianity today, that as Christians we arent really living like we are supposed to. And I think that we want to do whatever little part we can do in promoting the Christian lifestyle.

Josh:

That's really cool.

So, in closing, is there anything youd like to say to those who will be reading this?

John:

Oh no, I don't think so, I think we covered everything. I mean in terms of, oh whats that word, shameless promotion

*laughs*

I could probably plug our website:

Skillet.org

. Our website is really good.

*laughs*Josh:

Yeah, I went to it earlier actually, it looks great.

John:

It's funny to hear a band brag about their website, because it sounds like they shouldn't do that. But we don't have anything to do with it, we just hire somebody to do it.

*laughs*

It's not like I made it.

I just couldn't believe how good it was when I got it, because its a fan who did it.

Josh:

Really?

John:

Yeah, he's a young guy. He was just like I can do it, so we paid him a little bit of money and he was like I'll do it, I'll do a good one. I knew it was going to be good, because he's really talented, but he just outdid himself. I saw it and I was like....Woah!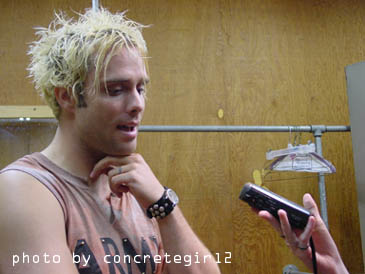 Reinventing Skillet:
an interview with John Cooper
Interview by: Kierstin Berry (from grassrootsmusic.com)
At first glance, Skillet might seem like just another in-your-face hard rock group in black leather pants. But a conversation with frontman John Cooper following the foursome's recent jaunt to Europe reveals a multi-dimensional collision of talents and personas. Not only is there a surprising sensitive side to Skillet, there's also a humorous side, a theological side, a parental side, and a musical side in constant pursuit of reinvention...

Kierstin Berry: Was this your first time to tour in Europe?
John Cooper: It was our second time actually. Our first we did in 1998. And it doesn't go that well. I mean, it's fun, but nobody knows us so it's weird.
KB: Here in the US at least, Skillet is known for creating a distinct sound with each new album. Do you go into every record knowing how you want your sound to evolve?
JC: Let's see. Usually, we go into a record knowing what we want it to sound like, whether it's a really drastic change or not. But usually it's also the case where once we're in [the studio], big changes can happen. I'll give you an example. On this record, Collide, we knew we were going to have hardly any keyboards, we knew it was going to be guitar heavy and that the drums were going to be louder. The things that I really wasn't prepared for was the use of strings on the record, and the piano and the acoustic guitar. And then in the end, we actually put more keyboards in than I was planning on doing. It's one of those things where if a song really wants it you just do it, and then you go, 'Man, this needs to be on more of the record because it sounds nice.' Also, what's current in rock music changes things. You listen to the radio and before you know it, what's current in music has definitely infiltrated what you do, whether you want it to or not.
KB: In terms of wanting less keyboards, was [your wife] Korey ready to try something different for a change?
JC: Well, I don't even really know what was the main factor that contributed to that change, except that I remember Korey saying she thought it was time that we not have keyboards, that it was time for something new, for a heavy guitar record.
KB: Did she play mainly guitar on Collide?
JC: She actually didn't play guitar on the album, but she is playing guitar live with us. About a year ago, we began changing our live sound a little bit because we knew Korey would begin playing guitar live, kind of pulling back the keyboards. We were transitioning our sound with fans of our old music so that when our new muisic came out, it wasn't a total shock. Korey still did all the programming on the record. There's actually a lot more drum programming on the record than it sounds like, a lot of low kicks and low loops where you don't really hear them but you feel them.
KB: You mentioned being impacted by what's current in music. Do you take a lot of your cues from what you hear on the radio?
JC: Whether you want to or even notice it, you are kind of being influenced by what's around you. The truth is, I don't really listen to the radio hardly ever but I am kind of aware of what's being played, and I have friends in bands who are up on what's going on and will say, 'Listen to this song by so and so.' There is definitely some of that. Now, I don't want to say that the reason that we would change our sound is because everybody is doing a certain sound so we want to do it too. But you have to pay some attention to that. Like for instance, our first record came out in '96 and it was a very grunge-rock record. By the time '97 hit, nobody liked grunge anymore. So you kind of have to decide, 'Is my sound defined by my songs and my voice, or is my sound defined by grunge-rock music?' And the truth is that I'm really a songwriter at heart; I'm not really a grunge guy.
KB: Which album would you say is most reflective of your personal taste?
JC: The thing that's really hard for me is that I go in transitions where I'll really like a certain type of music and then a year later I won't really like it and I'll like something else. So basically, within its time, each album that I wrote I like the best. Right now I think Collide is definitely our best record songwriting-wise. I think it's got the best songs and the most mature sounds on it. But when we were recording Alien Youth I was really excited because I produced it myself. It really just kind of depends. Out of all the records we've done, my least favorite is Invincible, and my favorite is Collide, as of now.


KB: Do you think it's important for artists to continually reinvent themselves?
JC: Yeah, definitely. Again, being that at heart I'm a songwriter, I think some of your fans don't want you to change, but if you want to be around for awhile, you have to do that, unless your sound is very signature and it's working really well. And there are some bands that can do that. Take a band like Tool. They just sound like Tool, you know? In fifteen years, they can still sound like that and they're going to have people who really like them. It's very signature. But I see myself being more interested in the songs than I am in the sounds, so yeah, I think reinventing ourselves is going to be the key for Skillet staying around for awhile. The negative side is that if you reinvent yourself into something that nobody likes then that's not very good.


KB: Where did you find the specific inspiration for Collide?
JC: Lyrically, you mean?
KB: Yeah.
JC: Well, let me think. It must have been about a year and a half ago that I began really praying, 'What does this record need to be about?' I had done a couple of records that were very much written for the Church, about revival and what the Church is supposed to be. And I really felt God telling me that this record needed to be about issues and the things that we are seeing in our day, issues that would be relevant to all kind of people, not just the church. Some of it has just come from my own life, things that I felt when I was growing up that I can remember now, or things that I see in young people at our shows. There are some songs about insecurity because young people are feeling so pathetic and useless and it's all coming down to insecurity. And of course I wanted to write something having to do with the war that's going on and all the violent things that we're seeing, and what it came down to in my mind was fear basically. We're in the midst of a world that is full of fear, but as Christians we believe that we have hope and a reason to live that gets us beyond that fear. Those are the kinds of things I wanted to get across on the record.
KB: On this album, there's also a love song. Was it challenging to write a love song that would fit the louder grittier edge of the album?
JC: The thing is, that song has been written for quite a long time. My wife and I wrote it and we started recording it on Alien Youth actually. If you've heard Alien Youth you know that song wouldn't really fit the record, which is why it's not on there. I had not planned on using it for this record either. It seemed like it was a few years old, and didn't work the last time, but I just really liked the song. Then my producer heard it as a demo and said we needed to record it, and it has actually been really refreshing. I mean, I do write love songs and they've never really seemed to have a place with Skillet, you know? It's kind of funny to me because obviously I am in love and so many people are dealing with falling in love, infatuation, things like that. I think it's something that's good for the Church to address. And maybe there have been some inhibitions on my part because I have not felt like the Christian music industry really cares to address those issues. On this record I wanted to get rid of all my inhibitions.
KB: Why do you think the Church is wary of talking about love and romance?
JC: Well, you know, I don't really know. I don't have the answer to a lot of the problems that I see. I can recognize what we're doing wrong. I don't really know how to do it right. But I do think there's something about Christianity where we don't like to talk about practical things, and I don't mean worldly, like sin, but things that aren't super-spiritual because we feel like they're carnal or something. Or that they're not really worth talking about. For instance, I don't want to be too mushy or fluffy but we never talk about friendship in church. Just what being a true friend really is. The principles in the Bible have everything to do with loving people, your brothers and sisters in Christ, your family. I think we just think they're not spiritual enough to talk about. And really the only 'being in love' stuff that we talk about is when we're in youth group and then all that we talk about is how far is too far, sexual sins and things like that. We never really talkabout 'is it okay to be in love, what does it really mean?' I think basically you have a whole generation of people growing up who don't know what it really means to love someone. Truly love someone. Like, what's the difference between loving someone and infatuation? Obviously the world isn't seeing what true love is like from the Church because divorce rates in the Church are just as bad, really. That's why I was kind of excited about this song. Even though it is a love song, it's actually a really good message for people to hear.
KB: You and Korey just had a baby recently. How has parenthood changed things for you?
JC: Oh man, I love being a dad. It's great. My daughter Alex is fourteen months now. Before we had a baby, I had spent quite a bit of time with my nieces and nephews and I began to realize how selfless you have to be to have babies, and I wasn't really prepared for that years ago. As we were preparing to have a baby, I knew that my life couldn't be about myself anymore. As humans we're so inherently selfish, right? All that we really care about is what we want to do. But when you have a baby all of a sudden you can't do anything you want to do and it's totally about your baby.

KB: Has being a dad affected your songs at all?
JC: Funny enough, it hasn't really affected my songwriting or musicianship at all, which is kind of a shock to me because everyone said, 'It's going to change your songwriting,' and it hasn't. I don't know what that means about me.
KB: Skillet has a female drummer, which is relatively unique. Is it helpful having the dynamic of two males and two females in the band, in terms of keeping things balanced?
JC: You know the funny thing is I always thought that since we had two girls and two guys, this could be marketing genius right here. Nobody meant for it to work out that way and never capitalized on the fact that we've got two girls in a rock band, which is just so cool. Our drummer is so good live. She plays harder than tons of the guy drummers who we've played with. I guess what I'm saying is, we need to do a better job of capitalizing on this because our girls rock! Now I've forgotten your question because I'm so busy bragging about our drummer.
KB: That's okay. Does it help keep things more balanced to have a couple of girls on the road?
JC: I do think it is really good getting girls' opinions on things. In the end, it's so much more accurate than guys' opinions, I've started learning. The way that girls react to things is so different, and having that balance is good because you get four or five guys together in a bus and things get weird, you know? Even just the fact that guys live like pigs. A lot of the guys I know who play in bands, they don't bathe properly and they just smell, you know what I'm saying? So having normal, practical life is going to be a lot easier having a few girls on the road.
KB: So going back to this album and the issues you have found it important to address, I've noticed you have a lot of songs that seem to deal with running from God and then finding Him. Weakness met with strength. Tell me about that.
JC: Yeah, I think that everyone ever can relate to that. I guess with the exception of a few people who say they don't believe in God so they just don't care, I think that anyone who has an idea that God is coming after them can relate to that. And even if you've been walking with God for ten or fifteen years, you're still probably going to have times like that where you think, 'I'm running from what God wants me to do.' The thing I've found is that I think our society has equated running from God with living in sin like crazy. Or that when you're serious with God, you do all the right things. But running from God can mean so many different things. It can mean simply 'I know God wants me to do this certain thing, but I really don't want to. I want to do what I want to do.' And in the end, you're fighting God's will. The first track on the record is about that idea that there once was a time when I was passionately in love with God, and what happened to that time? And that those times aresweeter in my memory than the time that I'm having right now. I guess that's something that I've gone through in my own life and I think it's so necessary to talk about that within the Church. So many people can relate to that.
KB: So what would you say to those who think that faith in Christ should mean the end of that kind of tension? Either believers who are disillusioned, or those who expect Christians to have it all together?
JC: I guess I'll have to get a bit theological for that but not because I'm trying to look smart. [Laughs.] Within theology itself, you've got two kinds of sanctification. You've got salvation sanctification, which says that when you give your life to Christ, He wipes all your sins away. The Bible says you're whiter than snow; you're holy before God. And then you have daily sanctification which means that even though it's true that I'm holy before God, I still have things in my life every day that need to be purified. It's a process of making me holy, which some people say is a contradiction but it's really not. It's the difference between God purifying you and you purifying yourself with God's power in your life. And so it is the end of the struggle of 'I finally found what I'm looking for. I found a reason to live. I found my first love.' All those things. But you still have the process of day to day. What do you do now to keep that relationship going? It's like finding your soul mate. It's not the end to all of your problems just because you've found the woman of your dreams, the one who is made for you, youbelieve. So then it's great, we're together, we're married, but we still have problems in our relationship. It could come from times when I don't feel affectionate toward that person for whatever reason. Or I don't feel as in love as I used to. Real life things that happen that you have to learn how to come through, and that's part of being human but it's also part of the Christian life. When you get to heaven you won't have those struggles anymore. You'll be in one perfect relationship with Christ.
KB: That's a great explanation. And in closing, do you have any idea what the next evolution of Skillet will look like?
JC: In terms of musical style, I've really got no idea. I guess what I'm kind of getting into at the moment, well, I'm kind of getting more into some of my metal roots you could say, and some of the stranger progressive rock stuff. I don't mean to say that I think Skillet is going to be a punk rock band. I don't think that will happen. But I am really enjoying the aggressive, screaming, heavy rock side of what we do, and I also love the strings on this record. So who knows? I'm just very, very happy doing what we're doing right now.
Collision Course
Interview by: Michael Herman (from christianitytoday.com)
1/26/04
As their band name implies, Skillet is always cooking up something new. They experimented with a variety of sounds on their first five albums until, most recently, they landed on hard rock, the dominant sound on their latest CD, Collide (Ardent). We sat down with the band--singer/bass player John Cooper and his wife/keyboard player Korey, guitarist Ben Kasica; and drummer Lori Peters--and talked about the ever-evolving Skillet sound, a sound that now comes crashing through our speakers as gritty, head-banging hard rock--with a dose of good old-fashioned metal.


With this being your sixth album ...
John Cooper: Whoa! Hey it is!
You've done techno, acoustic, industrial, modern rock, worship, and now more hard core rock. Is there a favorite style, or is this just the evolution of the band?
John: I enjoy the acoustic stuff the least. [His bandmates strongly agree.] It's cool for a little bit here and there for a change but not too often.
Ben Kasica: I like to see other bands doing it, my favorite bands doing their songs a different way. But just not us.
John: That was just a side thing for us in the past. It's really not us. For Skillet, it's been about evolving into what we feel we want to do now. The thing is that once you do it, you go head first into it with everything you've got. We do it that way at least.
Our debut album in '96 was basically grunge rock. I just loved it. But after a while, we started to think we should do something else. We got into the electronic stuff, and I remember thinking, This is so much more fun than grunge rock. There aren't any boundaries with electronic music. You can do anything with keywordswell, my wife can, at least. Playing it live was a lot of fun because you've got the whole backbeat thing and the rhythms are pounding.
Korey Cooper: There are lots of dynamics in that music.
John: For this record, I've been falling back in love with hard rock. And as I now listen to this new album, I can't help but think, This is so much better than our other albums.
I hadn't really liked rock music again until this past year or so. I've been really bored with the hard rock genre of music, you know? I hate rap-core, and that's dominated the music scene for the past two or three years.
So, you grow in phases of what you like to do, and right now I really enjoy playing this type of music. And I haven't enjoyed playing music in a really long time.
Korey Cooper: He's an old '80s metal guy, and a lot of that has come back in. Kids think that's something new, while everybody else is like, That's so metal!
Ben: Yeah, if John could get away with being in a heavy metal band, he'd be there in a second.
Lori Peters: That's why I like doing what we're doing now. Not that I didn't like the Invincible-type music. It was fun to play, but I feel like this is more my style. I'm having a real good time playing this stuff.
John: The drumming on this record is so much different than our... I interrupted you, Lori--but to brag on you, so that makes it okay! The drums really are so much different than our other albums. It just seemed like Lori could finally go wild on this one.
Korey: There are tastes of Lori on Alien Youth where she really got into it. But this one is where she's definitely more in her element.
John: Before we go on, let me clarify: I'm not saying that this is the music we've been wanting to do, but haven't been. I'm not saying we didn't like the electronic stuff. It was simply an issue of what do we want to try to do now? We continually ask ourselves that as we go into each new album.
We laugh about the '80s stuff, but it was so taboo and cliché to do those kinds of guitar riffs five years ago. But for some reason now is the time to bring some of that back. Maybe it's because there's a whole generation that doesn't know that stuff.
I find it cool because I grew up playing in metal bands. I hated my voice though, because I couldn't sing really high like that. But when Eddie Vedder and Pearl Jam came on the scene, that just changed everything with that issue. I was really happy about that.
Ben: I'm 19, so I missed the whole '80s metal thing. So this is really the first time I've heard this kind of music. I grew up listening to bands like Tool, and they're pretty metal from what I understand.
I'm really glad to be a part of this music--it's all new to me. Like the "squealing" effect is so cool, but John's like, Man, we've been doing that for years.
John: There was one particular thing Ben was doing on guitar, and it was almost like he thought he discovered something. It was his toggle switch. You know, that "aa-ehh-ehh-ehh-ahnn" sound, and I'm like, "Yeah, Eddie Van Halen!" Ben wondered what I was talking about. Needless to say, it had been done before he "discovered" it.
Any bands you're listening to these days that you weren't listening to a few years ago? Anything that might be a new influence or a sound you appreciate more?
John: I've been buying a lot more hard rock.
Lori: I just try to listen to albums with drummers I really like. Especially when we're in the studio. I started listening to Nirvana again, because I really love Dave Grohl. Same thing with Live, they also have one of my favorite drummers.
What makes a "good drummer"?
Lori: Well, Korey always describes me as a "feel" type player. It just seems like Dave Grohl and others I like aren't the kind who would sit down and write a drum part for a song. I hear the music and then come up with something that fits with it, and I think guys like Grohl do that as well. It comes across that way at least--in a good way.
Korey: Lori will literally be in the studio, she'll do a fill, and not be able to play it again. Then she'll have to practice it as she tries to remember it again. She just feels it, does it, and nails it.
John: I'm the opposite of that ...
(Long, uncomfortable pause... then the band breaks out in laughter because they know it's true.)
Ben: When I joined the band, I was into the Dave Matthews Band and some rock stuff. But I never really thought much about the song structure, or how the thing that always stays the same--throughout all of the trends--are truly good songs.
John taught me the most about the structure of songs, and he listens to a ton of pop music. I don't really like pop music, but some many of the songs are so good that I've learned to appreciate that. Especially on this album, John's been able to create songs that really work with today's hot sounds.
John: I think part of that was our producer. Paul [Ebersold] really pushed me. He was good on many levels--songwriting mainly. He has a good respect for older rock bands and is able to distinguish between cool old rock and cheesy old rock.
Paul was a great thermometer for that element of the album. He was extremely important in really making this record work, and we're excited that it turned out the way that it did.
A True Skillet Sensation
Interview by: Marty Kasza (from briomag.com)
Skillet. What kind of name is that for a band? A very appropriate one, really. At least for this group. For the past eight years, founding members John and Korey Cooper, with more recent additions Lori Peters and Ben Kasica, have served listeners one sizzling flavor after another. If youre a fan -- aka a panhead -- you've tasted the electronica, techo and industrialization explosions of past albums. Now with their most recent recipe of songs on Collide, Skillet cooks up a guitar-dominated dish thats certain to appeal to hard- rock-loving teens.
"I've always made a conscious effort to write about what I felt God was telling me on every project, and since weve started, weve covered a lot of bases," lead singer John says. "We've encouraged those within the church and have introduced people to Christ. This current phase of Skillet will take us farther down those roads even more effectively."
So what are the secret ingredients to being a ministry-minded alternative-rock band for Christ? Keep reading, and we'll spell it out for you.
A Special Skillet Recipe
Start With a Bunch of S kill
Add it to 1 Hometown in K enosha, Wis.
Stir Until Theres a Bit of I nfluence
Mix in Lots of Great L yrics
Toss in 4 People L iving a Dream
Give an Extra Dose of E ncouragement
And finally, Spread the Specialty to a Worldwide Group of Teens
A Bunch of Skill
Brio: Korey and Lori, not many hard rock bands have female members. Do you feel like you have to prove yourselves?
Korey: There's always a sense that we have to prove ourselves. We almost have to go above and beyond what a guy would do just to be accepted. Most women are involved in pop rock, so to be in the genre of heavier rock there's always something to prove.
Lori: Because I play drums, which is mainly a male-dominated instrument, I've always had to fight my way -- especially for the good parts in junior and senior high band. I've had to show more enthusiasm than the average musician. I've had to practice harder and prove that I can do it.
Ben, what do you think about being in a rock band that includes two women?
Ben: It's cool. It was weird coming into a band with a girl drummer, because it's very odd, but Korey and Lori are both awesome.
1 Hometown in Kenosha, Wis.
Why is it important to Skillet to be involved in your home church in Kenosha?
Korey: A vital part of anybodys growth in the Lord is accountability. It's important for us as a band to be involved in our local church because we want the covering of our elders. We need them looking out for us because its easy for anybody to be deceived. We need other people sharpening us -- that's how we grow.
A Bit of Influence
Share a testimony of how God has used you or Skillet to impact someones life.
Korey: God's used me to touch young people through Skillet, but it's easier to think of things that happened before Skillet when I was working with teens in our youth group.
One particular girl comes to mind. She says things today like, If it wasn't for you, I wouldn't be walking with the Lord. I really appreciate you for that. I was just doing what a youth worker does -- being involved in the lives of teens and loving them. Somehow God used me to touch her.
Lori: There's a guy from Iowa who lives in Kenosha now, and he's a big Skillet fan. He's in my home group and part of our church, so I'm getting to know him. He's there because his life was changed at a Skillet concert. He was into drugs, but now hes doing great. It's cool how what were doing in Skillet interacts with what our church is doing.
Lots of Great Lyrics
Collide features your first love song. What is it about love that you wanted to share with people?
John: I've written a number of love songs, but it never made sense to put one on a previous album. My wife, Korey, and I wrote this song, and I'm excited about it because its not just about being in love. It's about how love can conquer all.
You have another song called "Imperfection". What would you say to a teen dealing with low self-esteem?
John: The whole point of that song is to let people know that even if you dont feel like it, youre worth so much. There's a psalm I've loved since I was a kid. It says, "I am fearfully and wonderfully made" (Psalm 139:14). That's brilliant!
When you're young you learn there are no two snowflakes alike. I thought about that as I was writing this song. If God creates such intricate details in something as small and insignificant as a snowflake, then how much more special has God made you and me.
Tell us about the new musical phase Skillet has entered.
John: Korey and I began talking about what we wanted to do, and it seemed like it was time for a change. We wanted an album as aggressive as we sound live. It's good to redefine Skillet and keep our fans guessing because we don't want to do the same thing again. We want to explore new areas and keep things fresh with the band.
How do you hope the lyrics on Collide will impact people?
John: We sing about issues on this album that we havent sung about before. Our past records have been geared toward the church and big-picture Christianity -- the kingdom of God and revival. This album deals with issues everyone has gone through at some point. We sing about fear. The album title, Collide, is about that very thing: What do you do when youre a believer wanting to live in faith, but youre bombarded with fear every day?
4 People Living a Dream
Lori, have you always dreamed of being in a band?
Lori: Ever since I can remember! I grew up with the MTV generation, and I'd tape music videos and watch them over and over. That's how I started playing drums on my own, by watching drummers in videos.
And you played drums at school, too, right?
Lori: Yeah. I started on my own when I was 13. Then I bought my own drum set and got into school band around eighth grade. I played through 12th grade and then one year in college. I also played at church.

Ben, how did you end up in Skillet?
Ben: I was in high school, planning to go to college the next year. I always loved music and thought I was called to be in a band, but I didnt know how that was going to work out. One day I was practicing guitar and God spoke to me that I was going to play in a band with John. The next day I got a call from him, so it was totally the Lord who set it up.
What about you, Korey? Are you living a dream?
Korey: I was raised in a Christian family and was saved at age 5. When I was older, I knew God had a purpose for me. My lifes verse is Psalm 37:4: "Delight yourself in the LORD and he will give you the desires of your heart." When I was 13, God spoke to me that music was part of what Id be doing in my life. I held on to that. I didnt know anybody in the music business, so I was overwhelmed that God could make this happen.
How can a girl figure out what Gods calling is on her life?
Korey: Sometimes girls feel as if God has something for everybody but them. Biblically speaking, most of the figures I admire are males, but I never saw it like that when I was younger. I saw it as, "There's David, and he believed God. Look at all the amazing things that happened to him. It's the same God who lives in me." It helps to look at it that way as opposed to, "Those callings are just for guys."
Hearing from God is a hard thing to explain. Christians have to develop a personal walk with the Lord and pursue Him alone, trusting that He wants to speak to us. He makes things clear in His time. Some people give up because theyre not hearing when they want to hear or what they want to hear. Have patience and persistence, and believe the best about the Lord. Continually be faithful to Him in the little things.
An Extra Dose of Encouragement
What encouragement do you have for teens?
Korey: This isn't a new thing, but its so important -- purity. Girls choose to do things with guys that they shouldnt. My encouragement is to hold on until youre older. If God wants you to marry, then theres a guy out there whos the perfect one He has for you. In His timing everything will be right.
If you give yourself to singleness for a season, then it will be amazing once you meet the guy God has for you. I didn't date until I was about 23. John was my first boyfriend, and he's everything I ever wanted.
The Bible talks about fleeing temptation, and it all starts in your mind. If you allow your mind to entertain thoughts you know you shouldnt, it's going to eventually follow that physical things will take place. Your actions are an outflow of whats going on in your heart. You've got to take your thoughts captive to Christ and think on things that are pure, holy and good.
A Worldwide Group of Teens
Most of your listeners are teens. Whats your heart for your audience?
Korey: One thing on my heart is discipleship. I want to equip young people with knowledge of the Word and faith to believe they can do the things God has called them to do. A big mission of Skillet is evangelism. We want people to be saved, and we want to influence the world instead of the world influencing us.
So there you have it -- a great compilation of just the right ingredients to make a Skillet sensation! You can learn more about the band by visiting their Web site at www.skillet.org.